October 2016 Sales Report
Tuesday, October 18, 2016
Sales of existing homes slowed a bit in August for a second month in a row even with mortgage rates near record lows. According to the National Association of Realtors® (NAR), higher home prices and inventory shortages kept some buyers on the sidelines. The Northeast was the only region with a monthly increase in August closings, partly owing to relatively better inventory t.

Total existing-home sales (measuring transactions for single-family homes, townhomes, condominiums, and co-ops) dropped 0.9 percent to a seasonally adjusted annual rate of 5.33 million in August from 5.38 million in July. Following August's decline, sales sit at their second-lowest pace of 2016 -- but are still slightly above (0.8 percent) one year ago (5.29 million).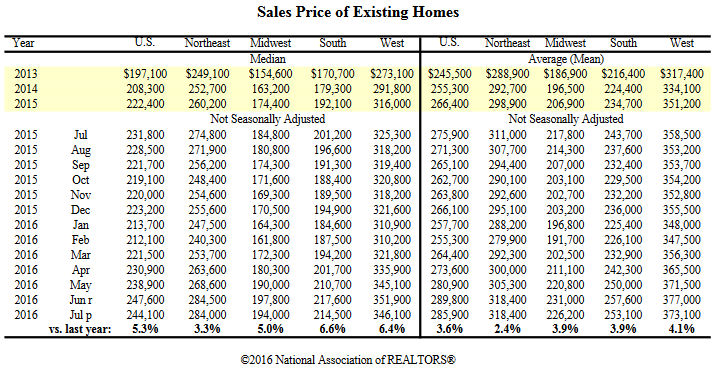 NAR's chief economist, Lawrence Yun, said that recent job growth is not translating to higher home sales. "Healthy labor markets in most the country should be creating a sustained demand for home purchases," Yun said. He added, "however, there's no question that after peaking in June, sales in a majority of the country have inched backwards because inventory isn't picking up to tame price growth and replace what's being quickly sold."

Housing Data Takeaways
The median existing-home price (all housing types) in August was $240,200, up 5.1 percent over August 2015 ($228,500). August's price rise marks the 54th consecutive month of year-over-year price gains.




Total housing inventory by August's end dropped 3.3 percent to 2.04 million existing homes for sale, and now sit 10.1 percent lower than a year ago (2.27 million); inventory has fallen year-over-year for 15 consecutive months. Unsold inventory at the current sales pace shows a 4.6-month supply, down from 4.7 months in July.




First-time buyers represented 31 percent of transactions in August, down from 32 percent both in July and one year ago. For all of 2015, first-time buyers drove 30 percent of sales.




According to Freddie Mac, the average commitment rate for a 30-year, conventional, fixed-rate mortgage was 3.44 percent in August for a second month in a row and stayed at its lowest rate since January 2013 (3.41 percent). In 2015, the average commitment rate was 3.85 percent.
NAR President Tom Salomone, of Real Estate II Inc. in Coral Springs, Florida, says in today's fast-moving market, a Realtor® who knows about down payment options and their target area is essential to a successful buying experience. But buyers also need to have their ducks in a row according to Salamone. "Home shoppers serious about buying need to be ready with a pre-approval. This allows a Realtor® to hone in only on homes within the buyer's price range and ensures any offer presented to the seller is taken seriously."